Team Grams
When you became my client, you placed your trust in me to help make your vision a reality. I honor that trust with the help of my expert support staff. Together, we make a strong commitment to customer service.
If at any time you have a question, concern or need, please let us know.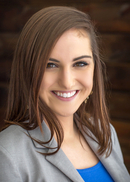 Amy E Sorge
Associate Financial Representative
Office 402-483-7871

Amy manages most of the day-to-day operations for team Grams. She provides excellent service and communication with our clients, assists with personal plan logistics, and handles investment processes. 

With a degree in Financial Planning, Amy graduated from Creighton University in May 2016. She's been working in the financial services industry for four years and currently holds her life and health license.

Outside of work, Amy enjoys doing anything outdoors and spending time with her fiancé, two dogs, and two cats.

Antonela Bogdanovic
Operations Assistant
Office 402-483-7871

Antonela works part-time for team Grams. She provides exceptional service and manages our marketing and insurance processes.

Graduating in May of 2019, Antonela is finishing up her Bachelor's degree in Business Administration at the University of Nebraska-Lincoln. She is majoring in finance with minors in economics and management.

In her free time, Antonela enjoys road tripping and spending time with friends and family.